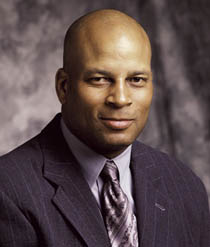 The 2005 Crawford Prize Recipient
Ronnie Lott
The National Recreation Foundation recognized Ronnie Lott for his outstanding leadership for youth with the 2005 Robert W. Crawford Achievement Prize.
Ronnie is much more than a Hall of Fame football player who, as part of his National Football League (NFL) obligation, has done nice things in his community. Ronnie Lott's football career began at the University of Southern California and spanned 14 seasons from 1981 to 1995 in the NFL with three different franchises. He was inducted into the Pro Football Hall of Fame in 2000 and the College Football Hall of Fame in 2002.
In his memorable NFL career, Ronnie Lott led by example and was known as a fierce competitor. He earned the reputation of being one of the hardest hitting defensive backs in NFL history, and he earned the respect of those who played against him and with him. From the moment he joined the San Francisco 49ers in 1981, his dedication and fierce, all-out play inspired his teammates. On the field, he was continually yelling to his teammates to play harder. Off the field he was just as vocal, a leader in the club house and a man willing to help younger players who were struggling.
Since his retirement from football in 1994, "giving back" and helping kids has been his mantra. Away from football Ronnie Lott is very different from the aggressive on-field persona which fueled his reputation. Now what you see is a soft-spoken man who has given of his money and his time to a variety of charities. He is one of the most respected individuals in the San Francisco Bay area and is an exemplary role model.
In 1989, Ronnie founded All Stars Helping Kids, a non-profit organization which helps disadvantaged youth in the Bay Area. Ronnie conceptualized the organization on the core belief that it is up to all of us to make sure the next generation thrives and therefore it is a team effort. As President, Ronnie plays an active role in the organization which includes numerous special appearances, fundraisers, and site visits to organizations such as the University of California San Francisco (UCSF) Children's Hospital.
Since its inception, All Stars Helping Kids has been a galvanizing force and a vehicle for individuals and corporate partners to invest in the future of children in the Bay Area. All Stars supports organizations that are making a positive impact on the well-being and future of disadvantaged children and their families. The organization makes grants annually to organizations that are breaking the cycle of poverty through education, supporting early childhood and youth development, meeting children's physical and mental health needs, and making life brighter for seriously ill children and their families. Of the many achievements of All Stars includes the dedication of the All Stars Technology Room and a children's garden at the UCSF Children's Hospital. In 2002, All Stars was able to allocate nearly $2 million to organizations to advance the education, development and health of children.
Ronnie Lott is respected as an outstanding role model for youth and has done so much in leveraging his talents and skills in helping others. For his belief in the future of youth, the National Recreation Foundation was honored to award Ronnie Lott with the 2005 prize.