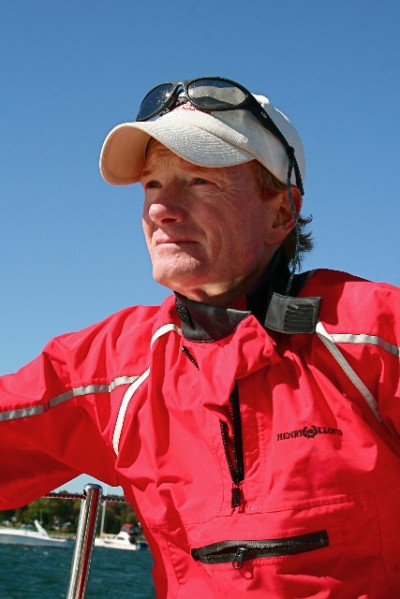 The 2016 Crawford Prize Recipient
Michael "Spike" Lobdell
The National Recreation Foundation presented the 2016 Robert W. Crawford Achievement Prize to Michael "Spike" Lobdell. With this prize, the Foundation recognized Spike's dedication to transforming the lives of young people through exposure to the ocean and sailing.
Spike founded New England Science & Sailing (NESS) in 2004, an organization dedicated to using sailing and other adventure sports to teach life skills and academic discipline to young people throughout eastern Connecticut. Leaving a successful 30-year career at JPMorgan and XL Capital in 2008, Spike has devoted virtually all of his time over the past 12 years to the development of NESS, serving as its president and chief executive officer. He has never received a dollar of compensation for his efforts.
Today, NESS is one of the most successful community outreach sailing programs in the United States. It was named the Outstanding Community Sailing Center in 2014 by U.S. Sailing, the governing body of the sport. As a non-profit ocean adventure and education program, NESS engages students – a significant portion of whom have never been on the water and, without NESS, probably never could be – in experiential learning that builds confidence, teamwork and leadership skills through sailing, marine science and adventure sports. The number of young people from eastern Connecticut whom Spike has empowered to get out on the water, to learn sailing and other water sports and, most important, to acquire the life skills that arise naturally from these activities, is inspirational.
Under Spike's leadership, NESS started as a community summer sailing program in 2004. Forty children, most of them tuition-paying, participated in the program that year. Today NESS is a year-round educational organization that, in 2015, served over 4,700 students in eastern Connecticut. More than half of these students receive scholarships or other financial aid that enables them to participate. In 2015, NESS provided more than $430,000 in such financial assistance (more than $1.4 million since 2008).
In the early years, NESS operated out of an abandoned lobster facility in the harbor in Stonington, Connecticut. Today it operates in seven locations in southeastern New England. Partnering with over 100 different schools to support the core STEM curriculum (science, technology, engineering, math), NESS welcomes students, mostly disadvantaged children, to NESS's on-the-water classrooms – classrooms without walls.
To learn more about New England Science & Sailing, visit nessf.org.