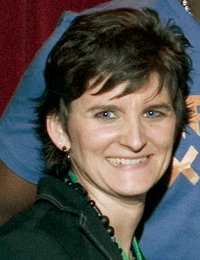 The 2010 Crawford Prize Recipient
Melissa T. Harper
Melissa T. Harper is the CEO of Good Sports, a Boston-based organization that provides sporting goods to disadvantaged youth. After receiving a BA in Communications and International Relations with a minor in Economics at the University of Pennsylvania in 1997, she worked in the consulting field managing teams which created business plans for new product development and market introductions. Her consulting experiences extended to the nonprofit field, further preparing her for taking over the leadership of Good Sports in 2004.
Under Harper's leadership, Good Sports expanded from a very small organization in 2003 to an emerging national power in 2010, serving the needs of disadvantaged children and adolescents aged 5-18 across the country. In 2003, Good Sports supplied athletic equipment to just four organizations in Massachusetts, providing about $5,000 of athletic gear to 2,000 participants. In 2009, this had increased to serve 124 programs in seven states, benefiting 148,000 youths. Primarily supporting team sports such as baseball, football, basketball and hockey, Good Sports has provided recreational opportunities to thousands of youth who had only limited or no chances at all to participate in these activities. She has accomplished this with a small staff of six in Boston and Chicago. Thus, the vast bulk of funding received by the organization has gone to support equipment purchases and not to overhead.
National Recreation Foundation supported Good Sports' expansion, financing the creation of a business plan to think through the options for growth. Harper successfully started Good Sports operations in Philadelphia and Chicago, as well as making significant inroads in Atlanta and launching a non-city-specific program that is relevant nationally. This has been one of the first instances to demonstrate the replicability of an NRF-sponsored program from a local organization to a national one.
One of the interesting ways that Good Sports builds its business is by getting the strong support of professional sports teams such as the Boston Red Sox, Boston Bruins, Philadelphia Eagles, Chicago White Sox, Chicago Bulls, Chicago Blackhawks and Chicago Bears. These teams support Good Sports by having their sports stars appear at Good Sports activities and by providing financial support from their Foundations. This model will grow and provide real momentum for Good Sports as it continues a national expansion. Recently, the Atlanta Falcons Youth Foundation has agreed to donate $50,000 to Good Sports for local team-sport equipment.
Good Sports now partners with national youth support programs such as those run by the Boys and Girls Club, the YMCA and the Pop Warner Football League. This enables Good Sports to reach more local sports teams in need of support. Under the direction of Harper, Good Sports has grown to be an innovative and successful non-profit which will serve as an example for the next generation. Her drive to build a successful non-profit has improved the lives of many young people and the communities in which they live.