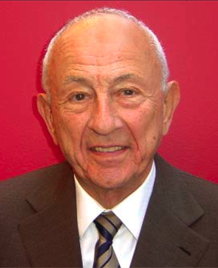 The 2008 Crawford Prize Recipient
Sidney Epstein
The National Recreation Foundation presented Sidney Epstein with the 2008 Robert W. Crawford Achievement Prize for his contributions to the youth of Chicago. Sidney Epstein was a man of enormous integrity and commitment who has spent the last 52 years making sure that at-risk children in some of Chicago's most challenging neighborhoods have had a chance to succeed in life. As Chairman of A. Epstein & Sons International, Inc., he and his brother helped to build their company from a small structural engineering firm into one of the largest full-service architecture, engineering and construction firms in the United States. He grew up believing in the principle of hard work and dedication to service. In 1956, when he was still a relatively young man, he needed both of these traits in abundance when he decided to do something about a youth club in his old neighborhood that had fallen on hard times.
Epstein had been concerned about the welfare of low income children on his native Westside, but found it difficult to raise money to help them. He was concerned about the potential closing of two youth clubs in the underserved North Lawndale neighborhood. Elliott Donnelley was also concerned about a club on the Southside. They agreed they had to do something to save these clubs. Thus, the Chicago Youth Centers was born, and now more than 50 years later it is serving 5,000 Chicago youth annually at nine Chicago inner city locations and Camp Rosenthal in southwest Michigan.
It was not an easy task in maintaining the struggling clubs in neighborhoods rife with poverty, violence, drug use, unemployment, and struggling schools along with a dramatic change in demographics involving ethnic populations. Epstein made sure the clubs maintained their commitment to all the residents who needed resources the centers could provide.
Thanks to his vision of a better life for under served children, generations living in some of Chicago's most notorious public-housing high-rises have come through their local CYC Center and discovered and realized their potential. The struggling neighborhood activity clubs have grown into flourishing centers for children from 3 – 18 who receive a continuum of care through Early Childhood Development, After School, and Team Leadership Development programs. There is also a mentoring program in place for children who have incarcerated parents. All the centers now follow a positive Youth Development model that builds on individual strengths while developing the critical assets necessary for a successful life. Of those youths participating in the program an incredibly high percentage move from the eighth grade through high school graduation with 65% going to college and the rest finding employment.
Epstein's commitment to community and his philanthropy was far reaching as he was a member of The board of Polk Brothers Foundation, Chicago Sister Cities, University of Chicago Hospitals, and The Chicago Symphony Orchestra. He remained actively involved in a network of centers he helped create, and he said "The satisfaction of working with young kids and helping them build their lives is enchanting. You can't imagine the satisfaction you get from seeing young boys and girls given a chance in life." Clearly, Epstein's belief that when given the chance children can succeed, is being realized every day. The world is a richer place because of the good work of Sidney Epstein.