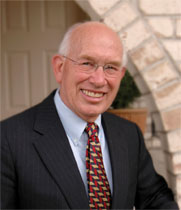 The 2007 Crawford Prize Recipient
Dr. J. Kent Hutcheson
The National Recreation Foundation was honored to present Dr. J. Kent Hutcheson with the 2007 Robert W. Crawford Achievement Prize for his contribution to the youth of Colorado for over 25 years.
In 1982 Dr. Hutcheson founded Colorado UpLift and served as a board member and president emeritus. In its 25 years of existence, Colorado UpLift has evolved into a distinguished youth organization working in the Denver Public Schools with support from Denver's top business leaders, countless community partnerships and a volunteer guild of more than 125 individuals. As a non-profit organization dedicated to building long-term, life-changing relationships with urban youth, it has received several public recognitions, including UpLift student winners of the Metropolitan Mayor's and Commissioners' Youth Award as well as the El Pomar Youth Human Service of the Year Award in 2001. There are thousands of activity-based programs for inner city youth which include Boys & Girls Clubs, athletic teams, after school programs and many local and federally funded dropout prevention initiatives.
Before founding Colorado UpLift, Dr. Hutcheson and his wife, Diane, spent 12 years in Asia developing a leadership institute for young people. He clearly has a lifetime commitment to improving the quality of life for disadvantaged youth.
Dr. Hutcheson is a Denver native who was recognized in high school as a distinguished scholar-athlete in Colorado and a Teen All-American football player. He is a graduate of Wheaton College with a major in sociology with graduate study at Florida State University as well as a Ph.D. from Columbia Pacific University. He and Diane have been married for over 40 years and have three children and two grandchildren. The National Recreation Foundation is pleased to recognize this distinguished visionary individual for his achievements and contributions to young people.