Train the Trainer: A Reflection on the Nonprofit Executive Leadership Program
The National Recreation Foundation (NRF) funded nineteen nonprofit leaders whose organizations focus on youth-development through recreation to attend the Nonprofit Executive Leadership Program (NELP) in Atlanta, Georgia. Since its inception, the mission of NELP has been to empower nonprofit leaders from across the nation. Specifically, NELP trains the trainer; this program is designed to improve senior managers' organizational capacity, leadership, collaborative efforts, and management skills. 
The long-term goal of NELP is to invest in the leaders of organizations who received grants from NRF. One important outcome from NELP is that the leaders return to their jobs and apply what they learned from the workshop. The organizations they lead will benefit, and this in turn positively affects the lives of youth and families served by these organizations. 
Offered previously in Chicago last fall, workshop leaders Pam Shipp and Cathy Robbins returned to facilitate another round of NELP. The workshop was well received by participants, especially as these executive directors and CEOs rarely have the opportunity to slow down and invest in their own professional development. 
Still, Shipp and Robbins worked their magic by offering challenging activities while also being attune to the changing dynamics of the group. Many participants entered their stretch zones while being active participants in the various aspects of the program.
When referring to stretch zones, we recognize how participants allowed themselves to be vulnerable while engaged in often uncomfortable activities. They compared accounts of their leadership history, strategies, and efficacy. Shipp and Robbins cultivated an open atmosphere so that the recreation leaders felt comfortable sharing their stories, making room for rewarding dialogue. This year's participants learned a great deal about themselves as they actively listened to their colleague's stories, best practices, and prior failures.
If you are still wondering what we mean by making themselves vulnerable, then the proceeding photograph will give you a better perspective! Here you can see the participants working together at lowering a "radioactive" object atop a "radioactive container." Known as Three Mile Island, this activity required that those in blindfolds listen to the direction of their partners (not blindfolded, standing behind them). The partners with their vision served as guides that could not touch any of the props. This was a real challenge, because the guides had to give extremely precise directions and anticipate how their blinded partners would act after interpreting their guidance with no visual cues. There was no room for communication error; one misstep would result in a "nuclear disaster". However, the participants did an excellent job and worked together to accomplish this activity's goals.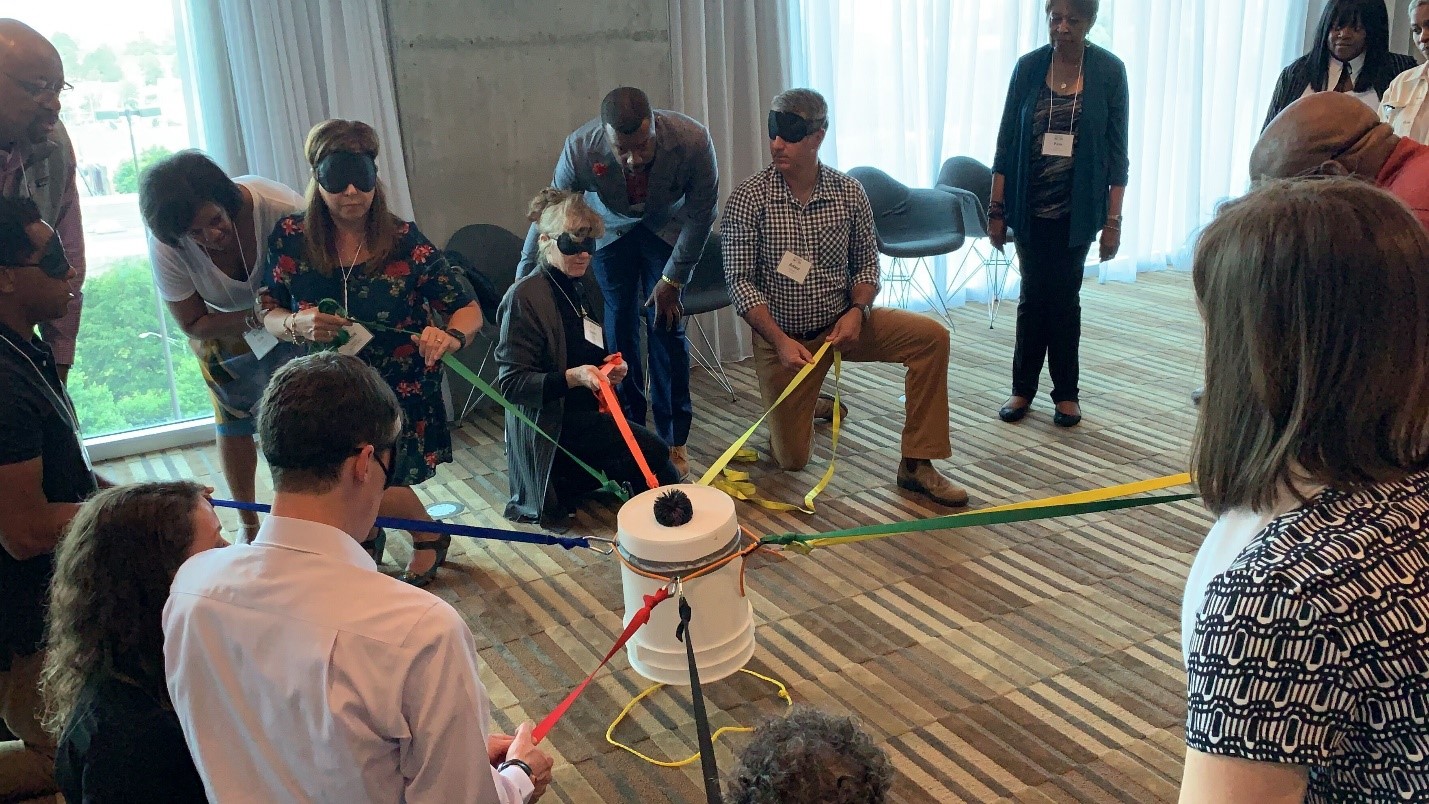 Shipp and Robbins facilitated several other activities that made the recreation leaders put themselves in unfamiliar situations. The first day was certainly met with a bit of hesitancy, but by day two, participants knew what to expect. They arrived the next morning with palpable purpose and energy.
Many lessons were learned from this year's workshop. The recreation leaders became more mindful and experienced with handling their professional and interpersonal duties as a leader in the recreation industry. They learned to positively improve their managerial and administrative tasks as well.
NRF was impressed by the passion of this year's participants. NRF believes that the lives of countless children will be positively impacted once the participants return home and serve their communities with renewed vigor and with a network of colleagues to lean on for support. This summarizes the importance of NELP, it is a program designed to enhance senior staff's leadership skills. Strong leaders translates into strong organizations.
The testimonials below are excellent examples of how this year's participants valued NELP.
The program was very effective, helpful, and enjoyable. -Harry, Massachusetts
Truly, thank you for hosting such a stellar program. For me and my current role, I really needed a bit of a re-set, refresher, and encouragement about my leadership style. It was a very special experience and one I hope multiply upon in my work now, and my work to come. -Jessica, New York
I just returned from the NRF executive leadership program in Atlanta. Thank you for your dedication to providing professional development for NRF grantees and for creating the space for us to meaningfully connect. The individuals who attended represent the most dynamic group I've engaged with this year. Flying home and reflecting on the conversations, I was able to unlock a pathway forward for us to strengthen our regional engagement . . . that I was not able to see previously. It was the time during meals and breaks learning from other leaders in the field that created the space for me to see my organization differently. -Seth, Colorado
Thanks again for a very powerful few days in Atlanta. I was definitely motivated and recharged by the time with the other CEOs and managers. There were many ideas and concepts I took away from the conference that will impact by leadership. -Blake, Connecticut
I so truly want to profoundly thank you for creating such a safe and wonderful space to continue to learn and grow. I've been reflecting so much throughout and since . . . The lessons for me were profound and I know that I'm not alone. Thank you! -Tony, California
It was an amazing event . . . Thank you for investing in our leadership!  When we become stronger leaders we can begin to empower ourselves and our team so that we can accomplish great things. -Carla, Florida